THE ALUMNI ASSOCIATION
Our Association has been created to remember and honor the relationships that were forged both on and off the football field. With blood, sweat, & tears, we played not just for our team, but for our school and for all of Fairborn. Let us now join together welcoming all Skyhawk brethren from all decades into the Skyhawk Football Alumni Association. We want all players from the 60's, 70's, 80's, 90's, and recent graduates. We want all players from FHS, Park Hills, & Baker. This Association will be huge! Any former player may become a member. Our goal is to get together once a year to establish an annual Alumni Football Game held at Buschemeyer Field and to create a Alumni Scholarship Award.
As of December 2008, our Association has former Skyhawks who now live in 7 different states! Even though we have moved on, we have not forgotten where we came from!
GIVING BACK
Many of the positive things that we are accomplishing as adults are a result of playing football as a Fairborn Skyhawk. Work-ethic, sacrifice, & goal-setting are just a few things learned during those high school years. Success is not determined by wins and losses, but by our character and attitudes. We need to show the present and future Skyhawks that many student-athletes before them have been very successful after graduating high school. It is our responsibility to aide in the success of the next generation of Skyhawks through postive example and scholarships.
Spread the word, our Alumni Association is here!
THE GAME
The Skyhawk Football Alumni Game will be held soon in Fairborn. We're shooting for July 2009 at Buschemeyer Field. It will be a flag football game including only former Skyhawk players.
Why play now? Why not! It is not only a great opportunity to get all former players together, but also a reason to stay in decent shape throughout the year. What a great motivation! Alumni T-shirts are now available for purchase. Contact
Bob Koski
or
Joe Moore
now to get order and get registered. It will be a blast!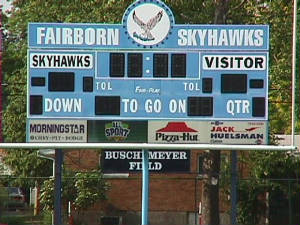 Our place of battle, Buschemeyer Field