New Mexico record curl!
NM Push It - Pull It - Lift It Results 12/6/08
Bob Koski, Men's Sub-Masters Pure 220lb Division winner in PowerSports with a season's best total of 876.33 lbs (397.5 kilos).
N.A.S.A. New Mexico 220lb class Curl record of 170.7 lbs.
Finshed 3rd consecutive season undefeated in PowerSports and Powerlifting. Koski has racked-up 16 division wins from 2006-2008.
Joe Moore with a successful Deadlift over 500lb! Click now to see it!
Another 500lb squat for Moore!
Koski wins two events at N.A.S.A. New Mexico
Regional Championships
Bob Koski, competing in the Sub-Masters Pure 220lb division, won both the PowerSports and Unequipped Powerlifting Regional titles lifting a combined 1256 pounds in the curl, squat, bench press, and deadlift. Many of the best lifters from Arizona, Colorado, New Mexico, and Texas competed in this regional competition.
JOE MOORE WINS BRONZE MEDAL AT INTERNATIONAL LAW ENFORCEMENT GAMES
Team KSC member, Joe Moore totals 1400lbs in the Men's 198lb Open Division, bringing home the Bronze medal. With a 500lb Squat, 400lb Bench, and 500lb Deadlift, Joe put totgether a solid meet in this international competition. Congratulations Joe!
Joe Moore with a near miss at 560 lbs on the Deadlift.
JOE MOORE BENCHES 400LBS IN LATEST COMPETITION
Team KSC wins at N.A.S.A. New Mexico State Meet
Sub-Masters Pure athlete Bob Koski and teenage newcomer Juanito Valdez won their respective divisions at the annual New Mexico State Powerlifting Championships held April 26th in Rio Rancho, NM. With a lifetime personal record in the squat, Koski won the Unequipped 220 Division and PowerSports 220 Division. In his 1
st
competitive powerlifting meet, Valdez set four New Mexico Teenage (13-19) State Records in the squat, bench press, deadlift, and total. Koski also won Most Outstanding male PowerSports lifter. This was the largest state meet of record with over 70 athletes competing.
For complete meet results click here.
Juanito Valdez squatting a new personal record.
Juanito Valdez and Coach Bob Koski with their 1st place trophies.
Joe Moore sets PR in the squat with 550lbs!
Joe Moore wins WNPF Upstate New York Powerlifting Meet
April 13th in Buffalo, NY
With a personal record total of 1435 lbs, Joe Moore wins the 198 Equipped Division in men's powerlifting. Joe squatted 550 lbs, benched 370 lbs, and deadlifted 515 lbs.
Joe Moore wins at the Red Brick Bench Press.
The Katana Samuri Sword - Outstanding Lifter Award
Koski wins big at Push-It, Pull-It, Lift-It meet!

Team KSC Powerlifter, Bob Koski, wins the men's Submaster Pure 242 class and overall lifter for PowerSports. Koski also breaks his own N.A.S.A Amercian Record for three-lift total (937lbs) and

deadlift (445 lbs).
Joe Moore wins overall title in New York!
Grip It & Rip It - Joe pulls 450lbs!
WNY Bench Press and Deadlift Championships
Webster, New York
November 10, 2007
Team KSC Powerlifter, Joe Moore, wins the IronMan Division and Best Lifter Titles. Competing in the 198 class, Joe bench presses 335 lbs and deadlifts 450 lbs for an impressive 785 lb total in the USPF Iron Man event. For complete meet details
click here
.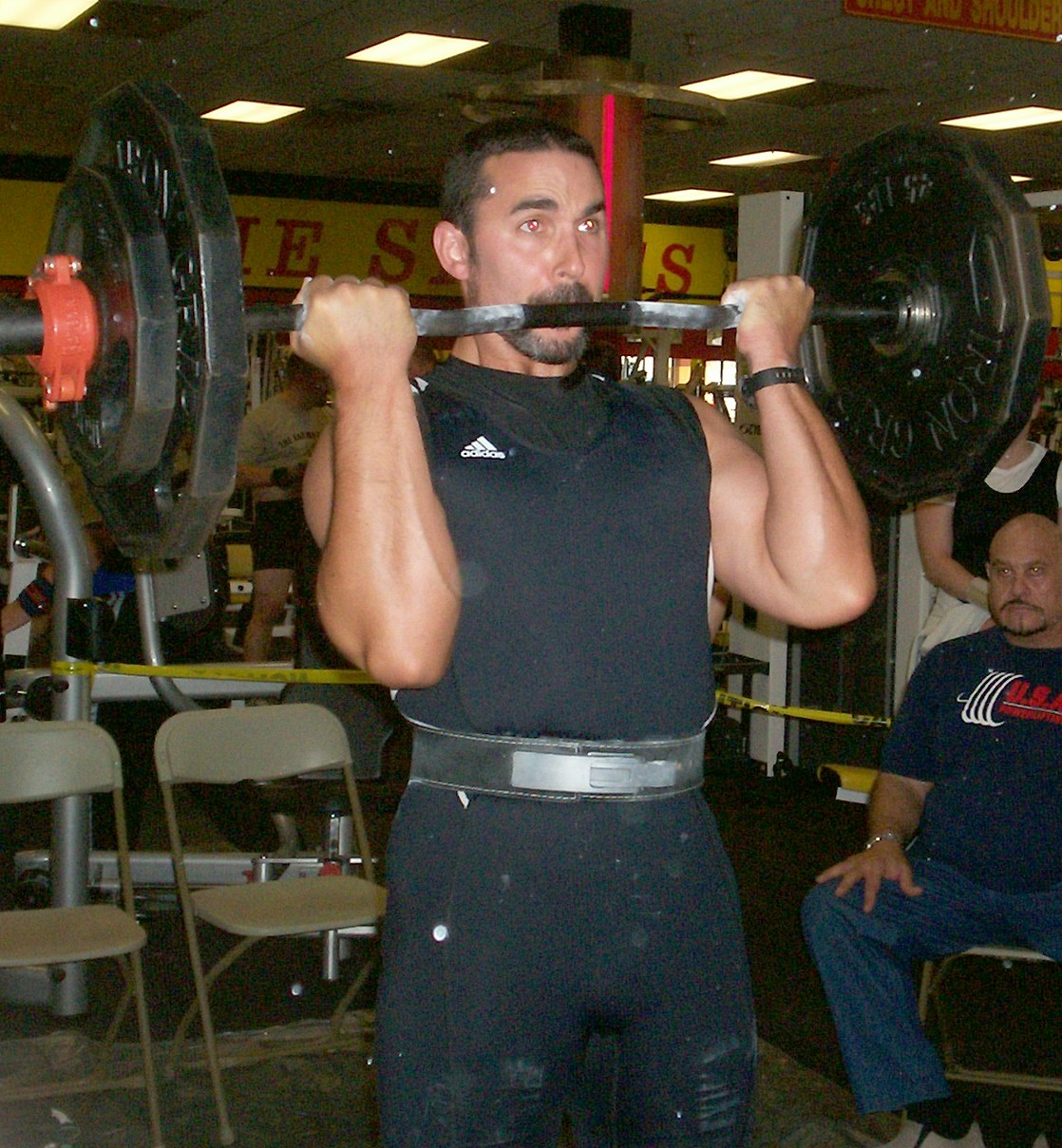 Bob Koski extends his winning streak with another BIG curl at the NM Regional Championships.
Division Titles in
Unequipped Powerlifting and PowerSports
for Koski at the New Mexico Regional Championships
September 8, 2007
Rio Rancho, NM
Men's PowerSports Sub-Masters Pure 242 Division - 1st Place
Curl- 165lbs, Bench- 303lbs, Deadlift- 435lbs *new American Record*, Total - 904 lbs
Men's Unequipped Powerlifting Sub-Masters Pure 242 Division - 1st Place
Squat- 413 lbs (raw PR), Bench- 303 lbs, Deadlift- 435lbs, Total- 1152 lbs *All are new NM records*
Meet Results, April-May 2007
Moore benches big in New York with a new personal record!
Bob curls 176 lbs breaking his own N.A.S.A. American Record at the New Mexico State Championships
Joe Moore sets a new PR with a bench press of 345 lbs in the 198 Open Division in New York
March 2, 2007
Overland Park, Kansas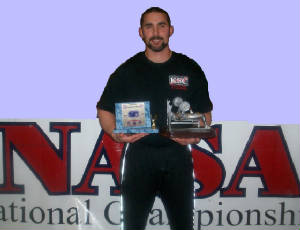 Competing in the 242 lbs weight class, Koski won two divisions in Men's PowerSports Powerlifting
Koski and Hietala score 10 wins at Arizona Regionals setting 6 American Records and 16 New Mexico State Records!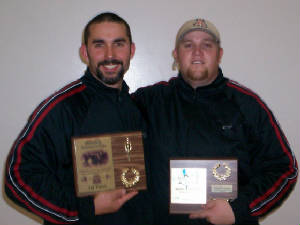 Bob Koski and Matthew Hietala ~ Lifetime Drug-Free Athletes